Dachshund Puppies For Sale
Dachshund are loving, loyal and affectionate dog breeds. They are good family dogs and get along with children if you introduce them at an early age.
view available puppies
Weve been breeding Dachshund since the 1960s, producing generations of puppies with good health, good temperaments and they are HDB approved.
All of our puppies at William Gohs pet farm come with a free deworming, microchip, vaccination & health check.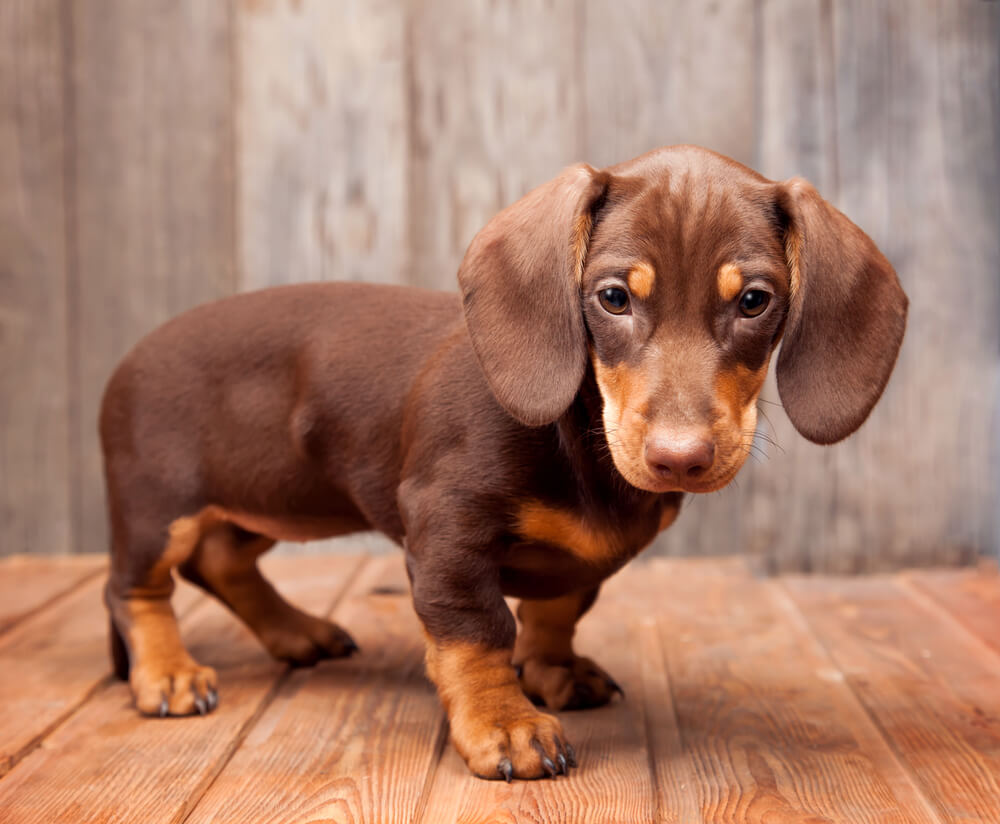 Please scan this QR Code for pricing and other details of Dachshund via
Whatsapp<\/span><\/a><\/p>","tablet":"","phone":"

Send us a WhatsApp message for the latest dachshund pricing.
<\/a><\/p>"}},"slug":"et_pb_text"}" data-et-multi-view-load-tablet-hidden="true" data-et-multi-view-load-phone-hidden="true">

Please scan this QR Code for pricing and other details of Dachshund via Whatsapp
Dachshunds have been around since the days of the Roman Empire.
They were originally bred to be hunting dogs, designed to chase down prey into holes.
Their name comes from a German word, Dachs, meaning badger, and Hund, meaning dog.
Here are some of the most popular Dachshund names.
In fact, the German hunting dog was so good at its job, herds of wild boar and other animals began to disappear from central and western Europe, causing a badger shortage.
Dachshunds are very loyal and can be good companions.
They tend to be suspicious of strangers and people they dont know. If you want a loyal, protective, and friendly dog, a dachshund may be the right dog for you.
If you are looking for Dachshund puppies for sale, read on
Breed Information
Height: 37-47 cm
Weight (male) : 7-15 KG
Weight (female): 7-15 KG
Life Expectancy: 12-16 years
Group: Hound Group
Temperament
Playful
Stubborn
Lively
Clever
Devoted
Courageous
Characteristic
Perseverance
Very Energetic
Entertaining and Fearless
Aggressive
Smart
Dachshunds are one of the most popular dog breeds in the world, despite their lengthy name.
They are known for their short stature, stubby legs, and long bodies, and are very energetic dogs.
Because of their long bodies, they can get easily injured, and have trouble breathing.
Dachshunds dont have sweat glands, so they can easily get overheated.
This breed is also great for owners with busy lifestyles: dachshunds are small enough to live in an apartment, but they have the endurance to keep up with their owners on long walks.
In addition, owning a dachshund can be extremely rewarding, as they are known for being clownish and playful.
They make great family dogs and will keep you laughing and smiling all the time.
Grooming, bathing, and brushing a Dachshund is probably the most important part of grooming a dog.
Without it, the dog will start smelling bad and look dirty.
It will also make it easier for him to get rid of the ticks and fleas.
Lets have a look at the Dachshund grooming routine.
If you are thinking about getting a dachshund, you might want to consider grooming your dog at home.
It is a lot of work but if you have the time and patience, grooming your dog at home is far preferable to taking your dog to a groomer.
If you are the owner of a long-haired dachshund, dachshund grooming can prove to be arduous, it is a necessity and can be done following a few basic steps these include: bathing, brushing, shedding/untangling, and sometimes professional care.
Dachshunds only need a bath every three months or so, this is the same whether smooth-haired, long-haired, or wire-haired because if you bathe your dog too often, it washes away the natural oils that make their coat nice and shiny, leaving them with dry fur and skin.
The Dachshund is one of the most fascinating and rewarding dogs to own.
These little dogs are brave, independent, determined, and loyal.
They may be a little stubborn at times, but they are a joy to have around.
The Dachshund is described as clever, lively, and courageous to the point of rashness.
Hes bred for perseverance, which is another way of saying that he can be stubborn.
Dachshunds have a reputation for being entertaining and fearless, but what they want most is to cuddle with their people.
The Dachshund needs to be with his family or he becomes depressed.
They are very curious and if they are not well exercised they will become frustrated and not be able to cope with pent-up energy.
He is a great family dog, but he is not a one-person dog.
They are good with older considerate children.
Despite their intimidating appearance, Dachshunds are generally playful and affectionate.
They are also highly intelligent and very trainable, though they can be willful at times.
The breeds short legs can make them clumsy and prone to stumbling, so they need to be carefully supervised to avoid injury to themselves when they explore their surroundings.
Dachshunds are a gun dog breed and are the right dog for people who like to hunt and have a playful spirit.
The dachshund was bred to hunt badgers, and they are a tenacious little hound.
Dachshunds will dig and tunnel after their prey, so they are the right dog for people who have a lot of rabbits running around their property.
Anxiety, stress, and boredom can cause any dog to act out, but Dachshunds may become aggressive rather than destructive like other breeds if not given a proper outlet.
Dachshunds, similar to other dogs, may get aggressive if they are bored or anxious.
The dachshund may be a short dog, but it is brimming with personality.
This feisty, fearless breed is fiercely loyal to its family, yet ranks among the most affectionate of family pets.
So, if you are looking for a dog who will greet you with wiggles and kisses every time you come home and follow you from room to room as you get ready for work or play, the Doxie makes a good choice.
Dachshund size is something you should be aware of if you are in the market to buy a Dachshund.
A lot of people are looking to purchase a Dachshund because they are so cute, but not everyone realizes that they can get pretty large.
To be exact, the average Dachshund weighs between 18 and 32 pounds, with the males being larger than the females.
Dachshunds are small dogs that come in three different sizes.
The smallest size is called a miniature.
The next size is again smaller and called a toy.
The largest size is called the standard dachshund.
The difference in sizes is not just a matter of height, but also the length of the body from the shoulders to the hips.
The standard dachshund weighs 16 kg (35 pounds) and stands 30 cm (12 inches) at the shoulder.
The miniature dachshund weighs 8 kg (18 pounds) and stands 25 cm (10 inches) at the shoulder.
The kaninchen weighs 6 kg (13 pounds) and stands 20 cm (8 inches).