10 Fun Things To Do With Your Dog in Singapore
Introduction to 10 Fun Things To Do
With Your Dog in Singapore
The usual visits to the dog café or staycations in a pet-friendly hotel are well-loved by your dogs, but hey, sometimes we humans are looking for something a little more exciting.
Many wrongly assume that Singapore isn't the most interesting place for a dog to be but don't let the strict "no dog" rules at most places dampen you and your fur kid's spirits.
Lots of people have dogs in Singapore; they are our little friends and in some cases our child-replacements.
It's even warmer for them than it is for us, but you can't leave them at home all the time.
They need to be mentally stimulated and exercised and you will get bored walking around the same block every day.
I have smuggled mine into the office occasionally and they love the different environment and the many pairs of hands to pat them!
If you've always wanted to conquer the open seas, cycle through an island, or join a yoga class without leaving your furry friend's side that's entirely possible.
In this post, we are going to teach you ten fun things to do with your dog in Singapore.
Sunny Heights is a place for you to leave your doggo when you're off for a vacay, but it's also home to a dog swimming pool.
At $18 an hour, you can have a splashing good time with your dog and it's a great way for beginner pups to get their first dip since the pool offers a 3-step entry for them to slowly wade in.
For more excitement, Sunny Heights also has other water features like a spurting pipe.
For extra safety, there are life jackets available for rent at $2.
There's also no need to bring your own shampoo, conditioner, or blow dryer you can self-bathe and blow-dry your wet pooch for $10 for the first 10 minutes at their Dog Wash machine.
Address: 110 Turf Club Road, Singapore, 288000
Opening hours: Sat to Sun, Tues to Thurs: 1:00 PM – 6:30 PM, Fri: 3:00 PM – 6:30 PM (Closed on Mondays)
Telephone: +65 6462 3736
Website: http://sunnyheights.sg/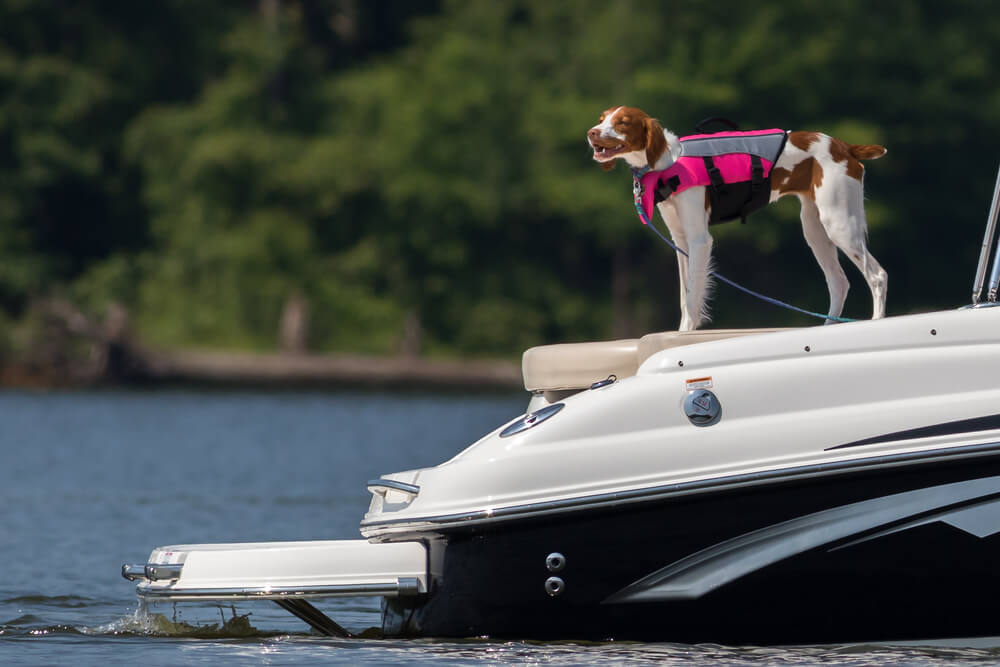 Sail The Seas On A Pet Cruise
Here's a chance for you to explore Singapore's coastal areas in style. Pet Cruises lets you and your dog cruise the ocean. in your own private boat, of course.
At $150 for a 1.5 hour Sunset Cruise, your dog will finally know what it's like to conquer the open waters and have the salty breeze ruffle their fur.
You can also choose from an Island Cruise (2 hours, $150) where you'll sail to an island for a romp on the beach, or a Seafood Cruise (3 hours, $250) where you'll be off to a floating seafood restaurant for a hearty meal.
If your dog is constantly hyper and is always up for exercise, the Changi Cruise (4 hours, $350) also sails to the floating restaurant but also includes a stroll on Changi Boardwalk.
Address: Punggol Jetty
Telephone: +65 9637 5009
Website: https://www.sites.google.com/site/petcruise88/
Try Stand-up Paddle Boarding At Sentosa
Stand-up paddle boarding (SUP) is a fun way to exercise, and it'll be even more fun having your furry BFF peering into the water at the edge of the board.
With Stand Up Paddling School's Beginner SUP Class, you'll learn the basics while paddling through the calm waters of the dog-friendly Tanjong Beach.
As a mix between canoeing and surfing, SUP not only gives you an intense core workout it's also an easy way to build your dog's confidence in the water.
Classes start at $60 per person and include rental of SUP boards.
Address: Old sheds between the two life-saving posts on Tanjong Beach, Sentosa
Telephone: +65 9638 5565
Website: https://www.supschool.com.sg/
Test Your Flexibility With Dog Yoga
You might be a yoga guru or an inflexible novice it doesn't matter.
With Doga (dog yoga), your dog joins in and becomes part of your workout giving you and your doggo great bonding time. And it's suitable for all sizes of dogs!
Get into Warrior Pose by lifting your tiny chihuahua, or fold over your golden retriever with the Camel Pose.
Singapore has several yoga studios that offer Doga.
Try Pawfully Fit for their Lightweight-Paws Yoga class which is for dogs below 10 kg, or their Pawfully Yoga Stretch class for heavier dogs.
When more dogs and owners join in for a class it becomes more affordable so summon your fellow dog-owner pals along.
A 40 minute session for an owner and their dog is $80, but the same session is $40 if two pairs or more join.
Address: 31 Ocean Way, #01-23, Quayside Isle, Singapore, 098375#
Opening hours: Mon – Thurs: 9:30AM – 8PM | Fri – Sun: 9:30AM – 4:30PM
Telephone: +65 8127 7033
Website: http://www.pawfullyfit.com/
Cycle With Your Furkid In Tow At Coney Island

Coney Island's been the go-to spot for a quick nature getaway, the tranquil atmosphere and leafy surroundings will make you feel like you've left Singapore.
There are things you can do on Coney Island, but if you're there with your dog, it's best to explore the island on a set of wheels with your fur friend.
The two bike rental kiosks that are nearest to Coney Island are GoCycling @ Punggol Jetty and Jomando Adventure & Recreations.
Rates are normally between $6 to $8 per hour, but if you're after one suitable for your dog, you'll need a tricycle with a makeshift carriage.
Coney Island's fairly flat with just a few gravelly paths, so your pup won't be in for too bumpy a ride.
Bring lots of water since the entire island only has one toilet that runs on solar energy and rainwater!
GoCycling @ Punggol Jetty
Address: 911 Punggol Road, Singapore, 829170
Opening hours: Mon – Fri: 10AM – 7:30PM | Sat – Sun: 8:30AM – 8:30PM
Telephone: +65 9859 0054
Jomando Adventure & Recreations
Address: 3 Punggol Point Road, #01-13, The Punggol Settlement, Singapore, 828694
Opening hours: Mon – Fri: 9:30AM – 7:30PM | Sat – Sun: 9:30AM – 7:30PM
Telephone: +65 9850 1813
Explore The Free-entry K9 Park
This K9 Park at NEX is an old favorite, it's right next to Pet Safari so your pooch will be excited to shop for treats right after tackling the agility course.
Secure from other parts of the mall, you've got everything you need here to tire your dog out such as poles to dash around and hurdles to jump over.
Even better there are separate enclosures for small and large dogs.
Besides the K9 Park, remember that dogs are only allowed at Pet Safari and Doggiestyle Cafe in the mall.
You can take the Pets Lift or the outdoor escalator that goes directly up four floors to the Sky Garden.
Admission is free.
Address: Level 4 R, NEX, 23 Serangoon Central, Singapore, 556084
Opening hours: Daily: 11:00 AM – 9:00 PM
Telephone: +65 6416 6366
Website: https://www.nex.com.sg/AboutUs
Visit Singapore Indoor Dog Agility Arena
If you and your pooch are up for something more challenging, try the Singapore Indoor Agility Arena with professional trainers guiding you every step of the way.
It's a place where you can train your dog for dog agility competitions.
But don't take it too seriously your dog might not be the show dog you've always dreamt of, but they're sure to have fun bounding through tunnels and climbing up steep peaks.
Guide your dog through basic obstacles with a tryout session ($45) it's suitable for anyone who hasn't participated in professional competitions.
Who knows, your dog might have undiscovered potential to become the next gold medalist.
Address: 11 Northshore Drive (Marina Country Club), Singapore, 828670
Opening hours: Daily: 6:00 AM – 12:00 AM
Telephone: +65 9839 3394
Website: https://www.singaporeindoordogagilityarena.com/
Workout At Apawz Fitness & Dog Sports Academy
Whether you have the world's most obedient dog or one that chews on all your wires, APawz Fitness Dog Sports Academy's dog training classes double as workouts for both you and your dog.
You can also challenge your dog's sense of smell in the Scent Game.
The "Fun Nose" game teaches how to find a particular item in a systematic way while the "Scent Detection" class challenges advanced dogs in smelling a certain scent.
Address: Indoor Sheltered Turf, 11 Northshore Drive (Punggol Marina Country Club), Singapore, 828670
Opening hours: Mon-Sun: 9:00 AM – 10:00 PM
Telephone: 93223310
Website: https://apawz.com/
Visit A Pet Friendly Café
Bring your dog along the next time you go out café hopping.
There has been an increase in the number of pet-friendly cafes sprouting out all over Singapore in recent years.
While your fur kid is exploring the place with excitement, you can chill with the other dog owners.
Lounging at a café sipping on Cappuccino with your furry little one beside you is our idea of how a perfect Sunday morning ought to be.
ALSO READ: Complete List of Dog Cafes in Singapore
Oh yes, there are quite a few pet-friendly hotels in Singapore. Hilton Singapore, Conrad Centennial Singapore and Regent Singapore are some of the most well-known hotels that cater to pets.
Not only will Fido have a jolly good time munching up dog food and lying on plush cushions, you too can get your well-deserved rest!